Entre la legitimidad y la eficacia
reformas en los sistemas de elección presidencial en América Latina
Daniel Buquet

Instituto de Ciencia Política, Facultad de Ciencias Sociales, Universidad de la República de Uruguay
Palabras clave:
Reforma electoral, Partidos Políticos, América Latina
Resumen
Este artículo analiza las reformas electorales como un proceso político competitivo que se desarrolla dentro de un contexto democrático. Para explicarlas, propone un modelo que parte de un contexto de crisis política, expresada en una fuerte volatilidad electoral, que conduce a dos procesos típicos polares de reforma electoral. Cuando la reforma es promovida por una coalición declinante, se recurre a argumentos de legitimidad y se proponen normas más inclusivas. Cuando se trata de una coalición ascendente, la propuesta se fundamenta en problemas de eficacia del sistema y se busca establecer reglas más exlcuyentes. El análisis empírico que respalda el modelo considera las reformas a los sistemas de elección presidencial realizadas en América del Sur a partir de la década de 1990.
Descargas
La descarga de datos todavía no está disponible.
Citas
Benoit, Kenneth. 2004. "Models of electoral system change" en Electoral Studies 23: 363-389.

Boix, Carles. 1999. "Setting the rules of the game: the choice of electoral systems in advanced democracies" en American Political Science Review 93(3): 609-624.

Buquet, Daniel. 2004. Balotaje vs. Mayoría Simple: el Experimento Uruguayo. La Doble Vuelta en Sudamérica, Centroamérica y Caribe. R. Martínez Mártínez. Barcelona, Institut de Ciencies Polítiques i Socials de Barcelona.

Colomer, Josep. 2004. ¿Cómo votamos? Los Sistemas Electorales del Mundo: Pasado, Presente y Futuro. Barcelona, Gedisa.

Cox, Gary. 1997. Making Votes Count: Strategic Coordination in the World's Electoral Systems. Cambridge, Cambridge University Press.

Diamond, Larry. 1999. Developing Democracy: Toward Consolidation. Baltimore & London, The Johns Hopkins University Press.

Duverger, Maurice. 1957. Los Partidos Políticos. México, Fondo de Cultura Económica.

García Díez, Fátima. 2001. The Emergence of Electoral Reforms in Contemporary Latin America. Barcelona, Institut de Ciènces Polítiques i Socials.

Geddes, Barbara. 1996. Initiation of new democratic institutions in Eastern Europe and Latin America. Institutional Design in New Democracies: Eastern Europe and Latin America. A. Lijphart, Waisman, C.H. Oxford, Westview Press: 14-52.

Jones, Mark P. 1995. Electoral Laws and the Survival of Presidential Democracies. South Bend, Universisty of Notre Dame Press.

Lijphart, Arend. 1994. Electoral Systems and Party Systems. A Study of Twenty Seven Democracies, 1945-1990. Oxford, Oxford University Press.

Linz, Juan J. 1990. La Quiebra de las Democracias. México, Alianza Editorial Mexicana.

Lipset, Seymour M. 1988. El Hombre Político: Las Bases Sociales de la Política. Buenos Aires, Red Editorial Iberoamericana.

Maiwaring, Scott y Matthew S. Shugart (1997). Presidentialism and Democracy in Latin America. Cambridge, Cambridge University Press.

Negretto, Gabriel L. 2006. "Choosing How to Choose Presidents: Parties, Military Rulers, and Presidential Elections in Latin America." The Journal of Politics 68(2): 421-433.

Payne, J. Mark, Daniel Zovatto y Mercedes Mateo Díaz. 2006. La Política Importa: Democracia y Desarrollo en América Latina. Washington D.C., BID-IDEA.

Shugart, Mattew S. y John Carey (1992). Presidents and assemblies: Constitutional Design and Elecotral Dynamics. Cambridge, Cambridge University Press.

Taagepera, Rein Y Matthew S. Shugart (1989). Seats and Votes: The Effects and Determinats of Electoral Systems. New Haven, Yale University Press.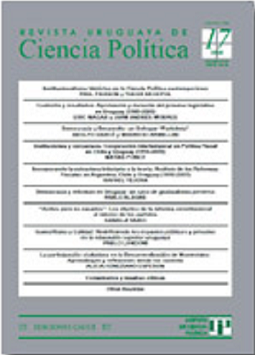 Cómo citar
Buquet, D. (2018). Entre la legitimidad y la eficacia. Revista Uruguaya De Ciencia Política, 16(1), 35-49. Recuperado a partir de http://rucp.cienciassociales.edu.uy/index.php/rucp/article/view/233